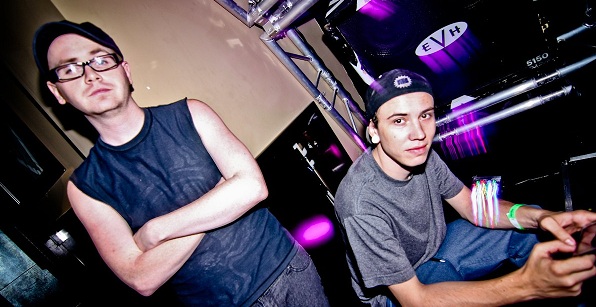 Follow @dubstepklctn
I had the pleasure of seeing At Dawn We Rage perform recently and was graced by their presence for an awesome interview. It's always a great feeling when artists you admire end up being even cooler in person.They've even provided us with some exclusive tracks, just for The Kollectors. So go ahead, get comfy and meet At Dawn We Rage.
Note: The below interview was audi-recorded, then written. Read it as you would a conversation. Also, Travis came in a little after the interview started.
So where are you guys from?
Storm: I grew up in Tucson then moved to Phoenix with family and just kinda been here since then… I've lived in random places for like months at a time and toured a bunch since high school with different bands. I worked for my friends bands doing guitar tech and merch for a couple tours and worked with my own bands for a bit but it never really got a full band goin'.
How did that transition into electronic music?
Storm: I got tired of being in a band. Like four other people on the same page was too much. We were havin' a hard time – I think we went through like 9 singers… ya it was stupid. Between girlfriends, drugs and whatever, you know? This way it's me. I can play a show by myself, I can write all the music myself.
Where does Travis fit into all of this?
Storm: Um, he helps out when he can. Like playing some shows and stuff and contributing to tracks. We've been friends for like years so we hang out all the time and just make tracks.
What artists do you listen to now in this scene?
Storm: I know it sounds cliché but I love what Skrillex and Deadmau5 are doin', I like a lot more chilled out stuff…like Teflon Tel Aviv and Tycho are some of my favorites… A lot of ambient stuff, I just love more ambient stuff. Oh, Skism, love Skism.
What would you guys say to aspiring producers/DJ's?
Storm: Don't pay for school. [Laughs] Seriously! Look at all these people who are like paying so much for this… Like I was gonna go to this one school when I got outta high school but I'm so glad I didn't do it. I mean I know it sounds like I'm a loser or whatever but I was gonna pay 18 thousand dollars to get a degree… everybody I know that went doesn't have jobs… the closest person I know that went to school is working at a venue taking out garbage. Well I guess sometimes he gets to hook up the mics [Laughs]. Now it's almost 22 thousand and like learned everything I know from YouTube and forums – there are a lot of people out there that are willing to help you out. Honestly, just find just find your sound and use Ableton.
Travis: A lot of people just use the same sounds and loop them and shit… like just find your sound and be able to make music not noise.
Ya, something I was concerned about with the whole dubstep genre is like back with Benga and Skream and stuff like that, it was more of the deep, chilled out deep bass music focused more on creativity and production quality whereas now it's all about throwing silverware into a blender and making a sound out of that [Laughs] Like that's cool for a while but what do you think is going to keep dub alive?
Storm: Well I think it's all about originality. Like trying new stuff, a lot of people like what we're doing because we throw a little more melody into it ya know? You still have the heaviness.
Travis: It still has to be music!
Storm: I wanna hear a song, not just a bunch of sounds thrown together. I mean we do it, we throw sounds together but I still wanna have my parts that make it a song ya know? I'm trying a bunch of new things, I try not to use presets as much as I can. I'll get on one I like and use it a couple times and as sad as it is I'll have to retire it cuz it gets over used. There's so many people that reuse the same sounds over and over again and I wanna hear melody…. It's the same sounds in every song. I listened to a record the other day that was the same f***ing sound in every song.
It's funny you say that, don't you think Skrillex does that a lot?
Storm: Ya… but it's f***ing Skrillex [Laughs]
What are your guys' plans for the short term and long term for the group?
Storm: Short term is in the next couple months we're giving out a free EP that's almost done, it's gonna be about for songs.
What's it called?
Storm: It's gonna be called Until the Light Takes Us. I like it cuz it's like At Dawn We Rage and Until the Light Takes Us… it's a black metal documentary that I really liked. After that we have a couple remixes coming out for Arcasia and Midnight Conspiracy.
Any collaborations or anything?
Storm: Umm not right now…
You guys recently did something with Captain Panic!, how did that happen?
Storm: Ya! Those are our dudes. I went out there for a weekend and just kicked it with them and we wrote that track, it was a lot of fun. I finally finished it in the last couple weeks. I was like ok, it's time to knock this out, it took like 4 months to finish it… I was just doin so much other stuff…like we kinda overused a sound that a lot of people use in it.
Ya that was the only criticism I heard around that track. People kinda said that it sounds like they found a cool sound a made a song around it.
Storm: Ya for sure… it's a commonly use preset. It's sick and wasn't being used too much when we wrote… but dude, it did really well. It got like 3000 downloads the first day. We were gonna release it on Beatport and everything, but you can't beat 3000 downloads in a day.
I feel like that's something a lot of artists overlook these days, even if you give a song for free, the money is made at the shows I feel like.
Storm: Dude. Straight up. We love our tracks charting on Beatport, but even if you're top 20 on Beatport you might sell a couple hundred. But if you can get thousands in a day, that's so sick. That's why we're doing the EP for free. So many people will share. If we give more for free we're hoping you might buy a shirt or something… That way the money goes straight to us. More so that online tracks sales.
Travis: Ya we lose like 60% on those sales. It's the logistics and exposure that comes from Beatport. People take you seriously if you're on sh*t like that.
Storm: Ya it's the promoters that wanna know you chart on Beatport. But like, does it really f***ing matter? Who knows? I'm sure it does in some aspect.
Well I know as a fan of music it's cool to see artists giving sh*t away for free sometimes, shows their all about the music and fans, not necessarily the money.
Storm: Ya we have our own label through Beatport, we've worked with Heavy Artillery who are like sickest people…
Who else is on that label?
Storm: Captain Panic! Is on it, this dude Gambit who's really sick, Figure's on it… Urban Assault, also really sick.
Travis: Oh! Shout-out to Figure!
Storm: He really repped us out on this last, and it really helped a lot.
You mentioned earlier that it took 8 months to get that Captain Panic! Track out, what's the average time investment in a typical track for you guys?
Storm: I'll finish a track in a day, man. If it doesn't get finished in a day, it won't get finished.
Travis: Maybe we rearrange a few things but for the most part it's finished.
Storm: I'll hear a sound or get an idea and in like 3 or 4 hours it will probably be done. Then I'll play it out… like tonight, we played a few songs I wrote a few days ago.
Travis: It's like an artist man, he don't paint one stroke at a time every day, ya know?
Ya, I like that. Good way to put it.
Storm: Sometimes I'll play a track out and it the crowd won't react well, which sucks cuz I may love a song but sometimes it isn't a crowd song… Most do well and those go on a record.
What does it look like for you when you get a track going? Is there like a sound you hear and think that would be sick in a track?
Storm: I just come up with sh*t man. I have a template in Ableton that I use. I'll just open that up.
Travis: One of the crazy things that's been happening to both us is we'll get to like the brink of like, "OK, no more, let's pick it up tomorrow" and then right there it snaps and then you get the best sounds.
Storm: A little marijuana helps too… [Laughs]
Travis: Ya a little herb does help!
Storm: I think it helps with mixing the most, like I'll smoke and just focus on shit. A lot of people talk shit on people who smoke but dude, I'm so f***king productive [Laughs]. I dunno, I'm just a productive stoner. Like the other day, I re-did our website, did a bunch of promo for our tracks, and finished some projects – all within a couple hours! I was like, "Ya, that's what's up." I'm just not lazy I guess.
Travis: Honestly, this might be the first show we played not high! [Laughs]. Everything that At Dawn We Rage is, was accomplished high as f*ck.
Storm: We actually have a whole other company called At Dawn We Blaze. We wanna get into like the whole merchandising side of the music scene. We're working whit company out of Colorado called Silver Surfer Vaporizers and we're gonna get grinders custom made, we wanna get glass custom made too.
Travis: They actually do powder coating and everything. Super legit.
Be sure to keep me in the loop with all this. Sounds amazing.
Storm: Ya for sure [Laughs]. There will always be stoners man. I mean look at Seedless or LRG. They're marketed towards that whole scene. With At Dawn We Blaze, we're not encouraging drug use or anything, just tapping into the market that's already there and just in the electronic music scene.
Travis: Ya we're not promoting drugs. Just to be clear.
One question I love to ask is if you guys weren't making music what would you be doing?
Storm: I don't know. I don't know anything else.
Travis: Maybe graffiti? Jail? Who knows.
Storm: I'm at a point where it's all I wanna do. That's what makes me happy. Maybe cooking? I just hate school. I'd be down to fly planes or something.
Storm: I just need music. I love making music and touring and that's all I wanna do. Even when I was in a metal band, that's what I loved. Honestly, I still dream about being in a metal band again. All of my friends bands got huge and I used to play with them. But I'd much rather get paid to press buttons and go jump around and have a good time then worry about that. More of a luxury like doing EDM stuff.
Travis: Ya it's always something I've been really into and it will always be a huge part of my life. Like since I was a kid that's all I wanted to do. And that's what brought us two together: he's great on the music side and I do all the graphic stuff. Music's always been around to take care of us.
Well I'm glad you guys do what you do. You're definitely taking off so it's going to be cool to watch as that happens with all the apparel and other stuff you have in mind.
Storm: Ya dude, we have so much sh*t comin', I wanna make an empire out of this. I want our name to be like a movement almost. It fits so well in the EDM scene.
How did your name come to be by the way?
Storm: It was gonna be the name of my metal band and it just kinda stuck.
Travis: In a lot of ways I think it kinda tied us back into that metal scene.
Storm: Ya, we get a lot of YouTube comments saying our stuff is pretty heavy, and we're like "Ya, cuz it was gonna be a metal band!" [Laughs] We sell a lot of shirts to Norway for some reason… probably cuz of the metal scene there.
I feel like a lot of the kids previously in the hardcore/metalcore scene made the easy switch to dubstep or bass music because of the parallels in intensity and whatnot. I mean the breakdown in a metal song is similar to the drop in dubstep.
Storm: Exactly.
Well, do you guys have anything else you wanna say?
Storm: The record comes out hopefully be the end of July, it will be free, we'll be sure to send it to you guys! Please tell your friends!
Travis: On that note, we LOVE all of our fans, thank for all the support. Seriously, we are super stoked to have you guys as fans.
Storm: Yes, it means a lot that you guys like our music. It's our form of art so for you guys to like it gets us stoked cuz by the end of a track I hate it [Laughs]. And it's never been about money, we just love the experiences and meeting new people.
These guys are honestly some of the most focused, down to earth artists around right now. It was great talking with similar minded individuals who simply love listening to and making music. They have a unique sound that is very distinguishable among a flooded genre so I have a feeling we haven't seen the last of ADWR. If you have the chance to see them live, I highly recommend it. Their shows are animated and captivating and the dudes behind the equipment are as charismatic as they are talented. Hit their Facebook if you haven't already and be on the lookout for more At Dawn We Rage!